COVID-19: Click on the following link for more information on MSU's response to the COVID-19 pandemic.
News
Student helps at-risk Detroit youth keep HIV, AIDS at bay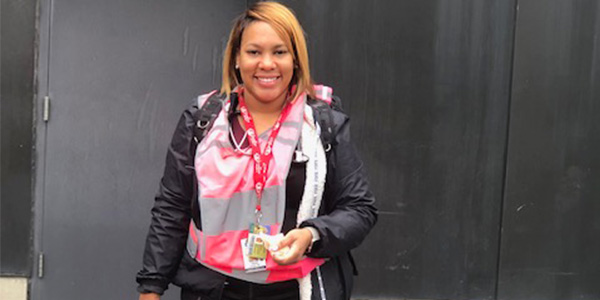 Natalie Jones began developing her passion for community outreach – with a particular focus on young people who are HIV positive or at risk of contracting the disease – while an undergrad in the Michigan State University College of Nursing.
Now, a new scholarship for students pursuing a Doctor of Nursing Practice in Psychiatric-Mental Health Nurse Practitioner will help her make an even bigger impact among those she serves in her native Detroit.
The scholarship, which Jones was awarded this fall as she began pursuing her DNP, will cover the first-year costs of her studies for the three-year program.
Jones plans to apply what she learns to her work as a nurse practitioner/research assistant for the Horizons Project, a Wayne State University-affiliated program that provides support for youth ages 13-25 who are at risk or are living with HIV or AIDS, including those who have been sexually abused or are sex trafficking victims.
"I always wanted to work with patients who were infected with HIV. I experienced my first community outreach at MSU, and that sparked my interest," said Jones, who recalled assisting a family of Mexican villagers who were HIV positive while studying abroad as an MSU undergrad.
She also joined with other nursing students in providing health information to Lansing School District high schoolers and volunteered for Street Medicine Detroit, a student-run nonprofit that serves the city's unreached homeless population.
"All these things kind of really developed my passion for community outreach and involvement," Jones said.
She completed her Bachelor of Science in Nursing at MSU in 2002 and held a number of travel and staff nursing positions over the next several years, many of them involving intensive care, before returning to MSU to obtain a Master of Science in Nursing with a concentration in adult gerontology primary care.
"I was a nurse for about 15 years, and a lot of patients who I saw over time were HIV positive," Jones said. She learned how to establish a rapport with them and understand the barriers to care they faced.
During her master's studies, she completed a clinical rotation at Horizons Project, where she was hired in July 2016 after finishing her MSN.
Based on her experiences there, Jones immediately knew where she wanted to concentrate her DNP studies.
"I decided to specialize in mental health because I see it every day at work," said Jones, who now lives in Novi.
At Horizons Project, Jones builds bonds with her young patients, many who have undertreated or undiagnosed mental health issues. She gives all patients her cell number, and often visits them at home to ensure they are maintaining their health.
"You must meet kids on their level," she said.
She also regularly visits Children's Hospital to test for HIV in patients there, and goes to Palmer Park in Detroit along with a social worker to pass out condoms and offer testing to youth who are hanging out there during the day.
"I have a great team of co-workers, and we all understand what kids are going through," Jones said. "Sure, there are easier, nine-to-five jobs, but I'm very passionate and want to do something I love. I couldn't ask for a better career. I really love coming to work every day."