News
Student honors fallen Muskegon-area nurses by forming group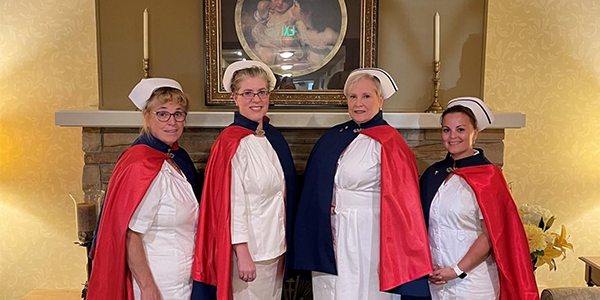 When Kristina Forman attended a friend's funeral, she was touched by a small ceremony honoring the former nurse. Known as a "Nightingale Tribute," volunteers lit a lantern, repeated phrases honoring the nurse for their service, and placed a white rose by the casket.
"During the funeral, I saw what they did to give tribute to my friend that had passed, and I had goosebumps and was brought to tears," said Forman, a student in the RN to BSN program at the Michigan State University College of Nursing. "I was like, 'What is this? I need to know more about this.'"
Forman soon joined the Grand Rapids Area Nurse Honor Guard to perform similar ceremonies for former nurses, honoring their time in the field and "releasing" the individual from their nursing duties. Concluding the service, the group offers the lamp to the family as a gift and symbol of their service.
Now, with the help of some friends, Forman is branching out and has started a Muskegon Area Nurse Honor Guard program. Kim Mason and Sheila Hamilton from Mercy Health Muskegon Hospital and Chris Patterson from Muskegon Community College also helped launched the group, which is now made up of all volunteer nurses who take time to honor their fellow colleagues.
Dr. Catherine Clarey-Sanford, an assistant professor and RN to BSN program coordinator with the MSU College of Nursing, was impressed with Forman's initiative.
"Knowing that there is an organization recognizing the dedication and service that nurses put forth during their careers warms my heart," Clarey-Sanford said. "I am so thankful and inspired that Kristina and her nursing friends developed this organization. This is truly a wonderful tribute for those in the nursing profession."
The organization hopes to grow the number of members and continue to inspire other nurses to start Honor Guards in different areas of the state.
And for Forman, that's time well spent.
"Nursing is more than just a job. If you are a nurse, it is who you are and not just what you do. It is a vocation, if you will," Forman said. "To be able to be there at the end at their last shift, it is an honor and a privilege to give respect to someone who has devoted their life to the nursing profession."