News
Students get a "foot"-hold in community nursing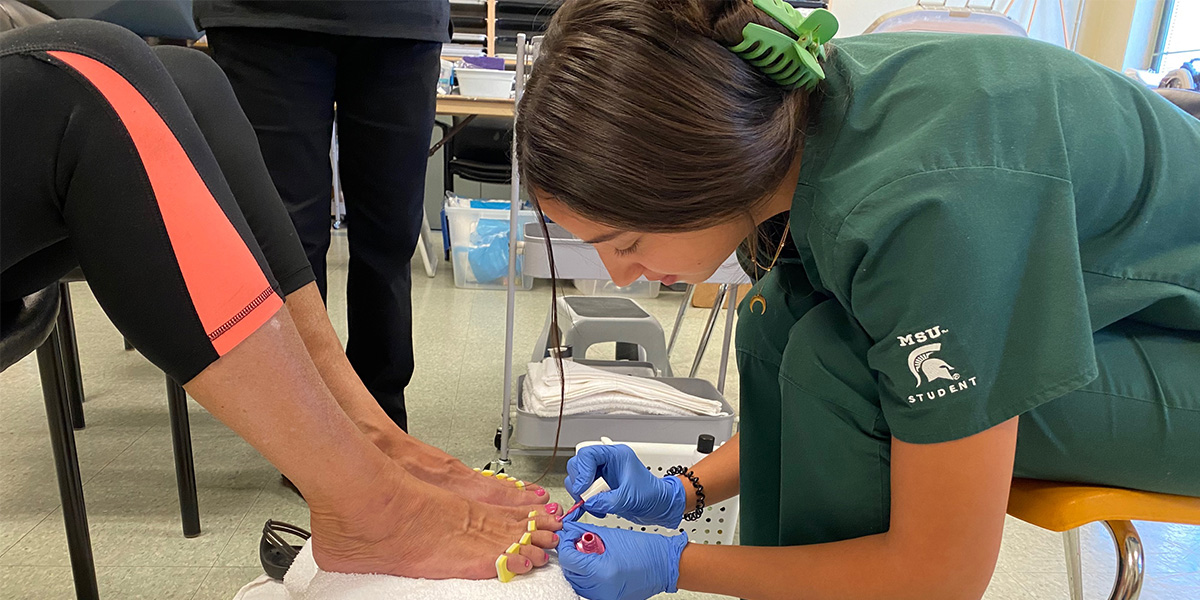 Some BSN students are looking to gain a foothold in community nursing through a partnership with the city of East Lansing. Make that a "two foot"-hold.
Senior nursing students are offering a special foot care clinic at the Hannah Community Center to provide services to East Lansing senior citizens while raising funds for a good cause. The students are providing 20-minute foot care reservations through early November, which includes feet soaking, toenail trimming, and foot massaging for only $30, the proceeds of which will go toward student scholarships.
"Most older individuals have diabetes or cardiovascular or peripheral vascular disease, which can cause poor circulation to the lower extremities," said Dr. Joanne Goldbort, an assistant professor in the Michigan State University College of Nursing. "If they don't take care of their feet, elderly individuals can end up with potential loss of toes or other health issues."
Goldbort said the goal is to teach students in her community health class ways to inform seniors on how to identify and prevent further health problems.
"At this stage of their education, the students are learning how to prevent illness and morbidity, which then leads to better outcomes, keeps the client more independent, and, ultimately, decreases the cost of healthcare," Goldbort said.
The students are offering a valuable service, said Kathy Kissman, outreach coordinator for the East Lansing Prime Time Seniors Program.
"We are so proud to be working with these nursing students as they dispense comfort, compassion, and caring to our many members," Kissman said.
Students found the experience helpful in furthering their community health training, as well as educating and interacting with senior citizens.
"Footcare is very important for all patients, but especially our diabetic community because they are prone to infections," said student Kirbie Watson. "It is just as important as any other type of yearly care such as the dentist, and should be prioritized often."