News
Study: Pandemic has led to increased anxiety, depression, stress among low-income families, especially white households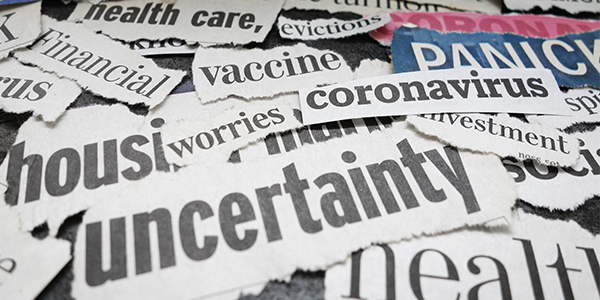 The COVID-19 pandemic has led to increased anxiety, depression and stress among lower-income families — especially among white households — according to a new study from a Michigan State University College of Nursing researcher.
The study, led by Dr. Jiying Ling, an associate professor in the college, analyzed more than 400 responses from a national survey, as well as one conducted with two Michigan-based Head Start agencies last fall. It reviewed the impact of screen time, physical activity, sleep quality, number of children, availability of food and other factors in stress, anxiety and depression levels among low-income parents; as well as preschool-aged children's feelings of sadness, fear, and anger. The project was funded by the MSU Trifecta Initiative.
Some of the key findings of the survey:
Screen time: Almost eight in ten respondents reported spending more time on screens during the pandemic, leading to increased stress, anxiety and depression.
Physical activity: Conversely, more than a third of participants engaged in more physical activity during the pandemic, which led to better stress, anxiety and depression levels.
Sleep disturbance: About seven in ten parents had sleep disturbance, resulting in higher stress, anxiety and depression levels in parents; and increased sadness, fear, and anger in children.
The more kids, the better: While finding daycare options was a source of stress for many parents, almost nine in ten respondents said they felt closer to their children because of the increased time together. The better parent-child relationships led to improved mental well-being among both parents and children.
Availability of food: Almost half of respondents reported issues securing access to food. The difficult access to food not only increased parents' stress, anxiety and depression, but also exacerbated their children's feelings of sadness and fear.
Paying the bills: Nearly two-thirds of respondents struggled paying the bills during the pandemic and, consequently, had higher stress and anxiety levels.

Ling said the one finding that surprised her was that low-income white parents reported higher levels of stress, anxiety and depression; and worse negative emotions in their children than low-income minority households. On average, white parents' levels of stress, anxiety and depression were 8 percent higher than minority parents' levels.
"These findings suggest that there are stark differences in mental health issues between white and minority families," Ling said. "Since this trend exists in both adults and young children, it demonstrates an intergenerational pattern of mental health problems, especially when affected by a global pandemic. While there has been some research done on this phenomenon before, there hasn't been done as it relates to specifically young children's emotions."
While some of the data from her study is sobering, Ling sees the potential in some areas.
"We need more programs focusing on increasing physical activity, decreasing screen time, and promoting quality sleep," Ling said. "It will take a coordinated effort among health care providers, parents and community leaders, but it is possible that such an initiative could lead to long-term, positive mental health outcomes."