News
Terrance Lindsey: Stepping Up in a Time of Need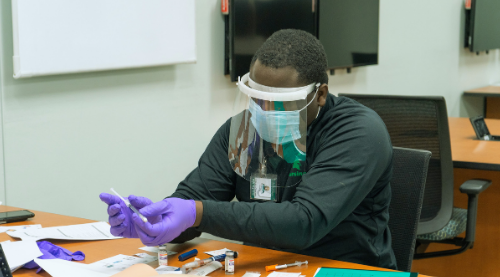 Terrance Lindsey, who is from Chicago's West Side, entered the frontlines against COVID-19 just two days after returning home from East Lansing at the semester's end of May 2020.
Lindsey worked at Symphony of Lincoln Park, a nursing home facility on Chicago's north side that also focuses on rehabilitation and sub-acute care. Caring for COVID-19 patients with dementia brought its own challenges.
"They aren't aware of social distancing practices or the importance of protective gear," said Lindsey.
As a former high school valedictorian, Lindsey was prepared to handle the academic challenges that online coursework brought to the field of nursing. This included pharmacology and statistics courses along with routine assessments that would normally take place in a clinical setting.
At times, it got lonely on campus, "I had to stay in school. It was very difficult as a student; I felt like I had no support system with my family and friends gone," he said.
Following his return to Chicago for the summer, Lindsey saw the first-hand impact that the virus had on his community, having seen 59 residents at his facility test positive in just a short time. "It was my first time dealing with it," he said, when describing post-mortem cleaning, a requirement for casualties of COVID-19.
As a nursing student, last summers' experience gave Lindsey a great deal of confidence. Providing care for at least 14 patients around the clock during a pandemic has given him a once in a lifetime experience. Though thankful, Lindsey along with many others in the nursing field experienced a great deal of anxiety with their work, "I returned home every day with the fear of spreading the virus to family members," he said.
His demeanor remains positive, "It made me a better student, a better person — overall, I'm stronger."