News
A Voice for the Underrepresented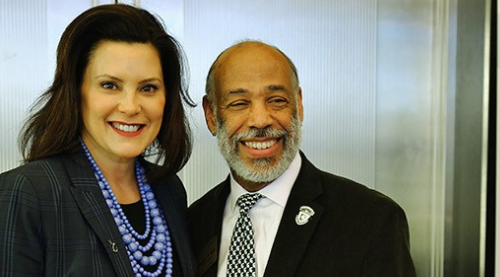 "This virus has shined a light in the staggering health disparities black Michiganders have faced long since before COVID-19 appeared in this state," says Michigan Governor Gretchen Whitmer.
In response to this long-standing inequity, the governor appointed Dean Randolph F.R. Rasch to a statewide implicit bias task force in early 2020, making him a leading voice for the underrepresented.
As of July 5, 2020, Black Michiganders represented 14 percent of the state population, but 40 percent of confirmed COVID-19 deaths in which the race of the patient was known. COVID-19 is over four times more prevalent among Black Michiganders than among white Michiganders.
Rasch currently leads the Primary Care Connections Workgroup, a subgroup of the task force that has pushed for more COVID-19 testing and primary care for those in need.
Dean Rasch joined Gov. Gretchen Whitmer and other leaders on July 9, 2020, to announce a new implicit bias training initiative that all health professions employees will be required to take in order to receive or renew their license.
Dean Randolph F.R. Rasch said healthcare professionals often have biases about groups of people they are unaware of based on upbringing, schooling or current workplace situations that affect the quality of care they deliver to patients, especially those from minority backgrounds. For example, a physician might treat a female patient who has suffered a heart attack the same as a man, when, in reality, the signs and treatment can be different for each.
The announcement ensures all health care professionals will undergo implicit bias training to obtain or renew their license.
"Implicit bias means how you unconsciously think of someone shapes how you get those patient histories, the tests you run and what plan of care you give to someone," Rasch said. "Requiring this as a part of re-licensure is a support to provide better care and to ensure the data you are collecting is objective.
"What implicit bias training does is it trains you to know what those biases are and to begin to look within yourself. Once you see that, then you can begin — on your own or with support — to deal with those biases."
"Studies show implicit bias can make a positive difference. Today, we are taking steps to improve racial equity across Michigan healthcare systems," Whitmer says.