COVID-19: Click on the following link for more information on MSU's response to the COVID-19 pandemic.
News
Alumni Feature: Louise Selanders, BSN '69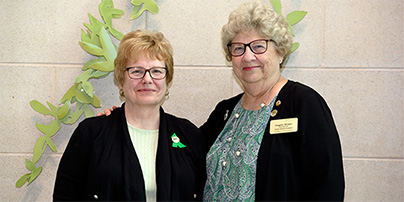 Since its creation in the fall of 2016, the Peer Mentor Program has been an important resource for future nurses at the Michigan State University College of Nursing.
Prospective nurses within the program can sign up to be a mentor and a resource for other students. Students meet with the mentors on a drop-in basis where they can get advice on classes, work-life balance, graduation, and anything else they may need help with inside or outside the classroom. If more help is required, mentors can also help find other resources throughout the college.
Tara Rhodes, who joined the college as an academic advisor earlier this fall, recently came from a previous advising role at Western Michigan University where she worked with the "WMU Broncos Study Zone," where WMU students could receive drop-in course assistance throughout the week.
That background is already coming in handy, as Rhodes now leads the Peer Mentoring Program at the college. She said she is excited about the direction of the program and how the current group of mentors will shape the upcoming MSU nurses.
The Fall 2019 cohort of mentors share a similar background and hope to make a lasting impact on the future of their fellow students.
Taylor Walker, and Rebecca Stiles are the current MSU College of Nursing peer mentors and all come from Clarkston High School. Even though they all came from the same school, they're all in different nursing cohorts, so they didn't have any prior knowledge the others were joining the program.
Together, they are working to help mold the next group of nurses and to make them be as prepared as they possibly can be.
"I believe that the program is headed in a direction of not only being a tutoring service, but being able to pinpoint specific concerns of nursing students throughout the program and supply them with the resources to conquer those concerns," said Walker.
To learn more about the Peer Mentor Program, contact the Office of Student Affairs at (517) 353-4827.