News
College celebrates graduation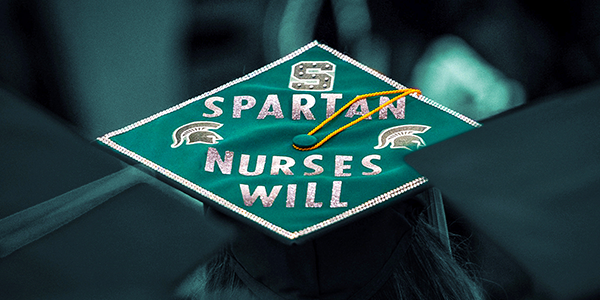 During this season, the Michigan State University College of Nursing is celebrating our nursing students' success before we say goodbye and send them off to positively impact patients' lives and the health care world.
This year, the college has a lot to celebrate, with 83 Bachelor of Science in Nursing (BSNs) students, 1 PhD student and 59 students in the Doctor of Nursing Practice program. which was recently ranked in the top 50 DNP programs by U.S. News & World Report. The DNP graduating class is the largest in the history of the college.
Students have been busy finishing their final projects. Graduating BSNs and graduate program students displayed posters near the end of the semester, presenting them to their professors and their peers.
For graduating BSN Student Jasmyn Johnson, being able to close out her last day of class with her classmates completes her college experience. Her groups research proposes a pilot study to create peer support groups for young adults transitioning to insulin pumps.
"I have grown so much since I started at the college," said Johnson. "This has been such an enriching experience, and ending this part of my college journey by presenting research that I spent my entire semester working on with my classmates closed it out on a high note." Read more on Johnson here.
In addition to hosting in-person graduations and pinning ceremonies, the college gets to celebrate its top achievers. Each program gives an Outstanding Student Award, and the BSN program also awards one student with a Spirit Award.
The Outstanding Student Award recognizes graduates who have demonstrated outstanding achievement in scholarship, clinical practice, and leadership.
The Outstanding Student Award Recipients are:
BSN: Eleanor Hoss
DNP—Adult Gerontology Clinical Nurse Specialist: Alexis Shuras, RN
DNP—Nurse Anesthesiology: Hue Huynh, RN
DNP—Family Nurse Practitioner: Amy Slotten, RN
DNP—Adult Gerontology Primary Care Nurse Practitioner: Chelsea Richard, RN
DNP— Psychiatric Mental Health Nurse Practitioner: Franklin Quider, RN
DNP—Post-Master's: Rebecca Steckroth, RN, MSN
The Spirit Award recognizes a student who has done the most to motivate and inspire their classmates to uphold the college's mission and keep up morale.
Spirit Award Recipient:
Kaitlyn DeWolfe
In addition to these awards, two seniors in the College of Nursing were among 206 across the university to receive a Board of Trustees Award, for having the highest scholastic average at the close of their last semester before graduation. Along with being recognized by the Board of Trustees, students will also be acknowledged during their individual commencement ceremonies in May and will receive $1,000 each from the university for their accomplishments.
Our 2023 Board of Trustees' Award Recipients are:
Sabrina M. Taylor
Madelyn E. Young
"We are so proud to celebrate our graduating students this year," said Dean Leigh Small. "With the largest cohort of DNP graduates, two Board of Trustees' Award Recipients, and our Outstanding Student and Spirit Awards, there is much to celebrate."