News
College Celebrates Success; Largest DNP Class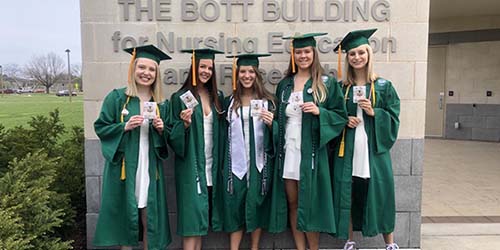 Graduation at the Michigan State University College of Nursing celebrates our extremely hardworking and resilient students. This year, we have a lot to celebrate, with 76 Traditional Bachelor of Science in Nursing (TBSN) students, six Bachelor of Science in Nursing for Registered Nurses (RN to BSN) and 57 in the Doctor of Nursing Practice (DNP) Program, which is the largest cohort to date.
In addition to hosting in-person graduations and pinning ceremonies, we get to celebrate our top achievers across the college. Each program acknowledges an Outstanding Student Award and Spirit Award recipient.
The Outstanding Student Award recognizes graduates who have demonstrated outstanding achievement in scholarship, clinical practice and leadership.
The Outstanding Student Award Recipients are:
BSN: Terrance Lindsey
RN to BSN: Dijanna Kovacevic, RN
DNP: Abrielle Wildman, RN Adult Gerontology Nurse Practitioner
DNP: Paul Bradley, RN Family Nurse Practitioner
DNP: Katie Bajorek, RN Clinical Nurse Specialist
Jake Baker, RN Nurse Anesthesiology
Natalie Jones MSN, RN, Post-Master's DNP
The Spirit Award recognizes a student who has done the most to motivate and inspire their classmates to uphold the college's mission and keep up morale.
Spirit Award Recipient:
Ally Pringle
In addition to these awards, four seniors in the College of Nursing were among 181 across the university to receive a Board of Trustees Award, for having the highest scholastic average at the close of their last semester before graduation. Along with being recognized by the Board of Trustees, students will also be acknowledged during their individual commencement ceremonies in May and will receive $1,000 from the university for their accomplishments.
Our 2022 Board of Trustees' Award Recipients are:
Isabelle Beck
Kayley Berceau
Taylor Rahl
Caitlin Zaremba, Honors College
The DAISY Award for Extraordinary Nursing Students was created recognize and celebrate nursing students for the above-and-beyond care and compassion shown to patients and their families.
DAISY award recipients:
Molly Ferguson
Caitlin Miller Moore, RN
"We are so proud to celebrate our graduating students this year," said Interim Dean Leigh Small. "With the largest cohort of DNP graduates, four Board of Trustees' Award Recipients, and our Outstanding Student, Spirit Award, and DAISY Recipients, there is much to celebrate."