News
How the college has supported students in Feb. 13 response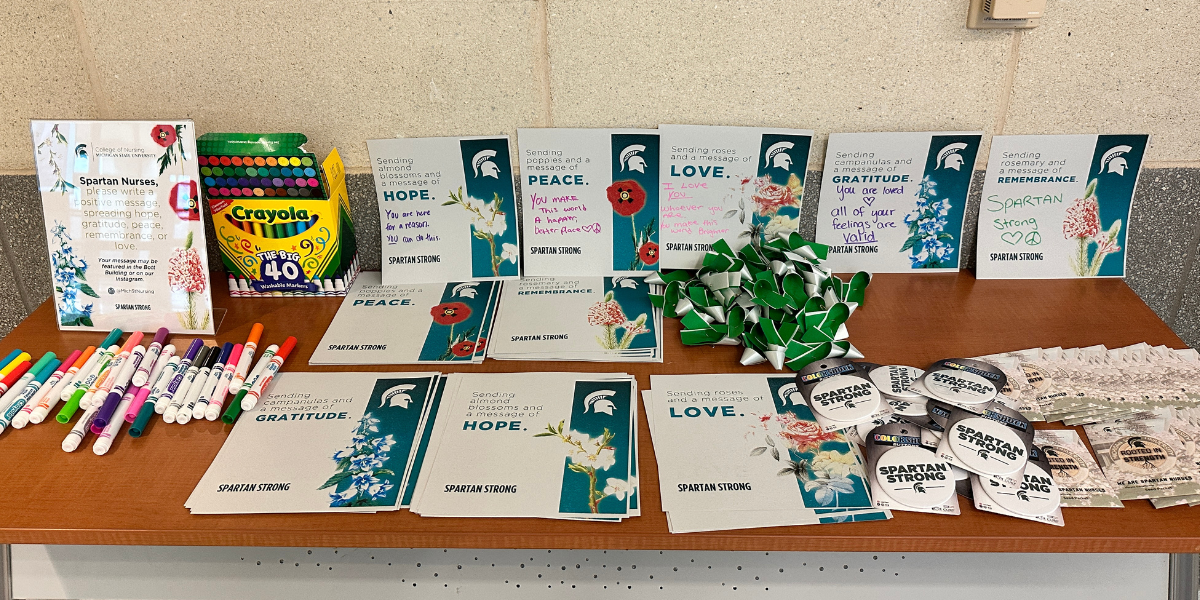 In response to the tragic events of Feb. 13, both Michigan State University and the College of Nursing have been offering opportunities for students and employees to share their thoughts, support others and — most importantly — heal during this difficult time.
In addition to sharing numerous resources both within and outside the university (many of which can be found here), the college has worked with Counseling and Psychiatric Services to facilitate listening sessions for students and employees.
One common question that has arisen during sessions at both the college and university levels is whether security should be heightened in buildings. Consequently, college leadership is meeting with university officials to determine what options exist for additional security in the Life Science buildings.
While those conversations are currently underway, college employees came together to offer several ways for students to heal, including the creation of physical and digital cards displaying different types of flowers, their meaning and space for the recipient to write a positive message. Students also received "Rooted in Strength" seed packets and "Spartan Strong" buttons.
Employees also created some special rooms in the college where students can grab snacks, meditate or engage in some arts and crafts. The Nursing Student Association, meanwhile, has donated to the Spartan Strong fund, which provides support for the needs of those most critically impacted.
The college continues to hear from our colleagues across the state and country and we appreciate all of the kind words as we continue to come together and heal.
"The outpouring of support from our own students, employees and alumni, as well as those from other nursing colleges across the country has been comforting and truly proves we are all part of something bigger," said Dean Leigh Small. "Everyone grieves on their own schedule and in their own way, but these kind words help us to get back to doing what we're here to do: Train the next generation of nurses and improve the health of all those in our communities."