News
Ling named fellow in American Academy of Nursing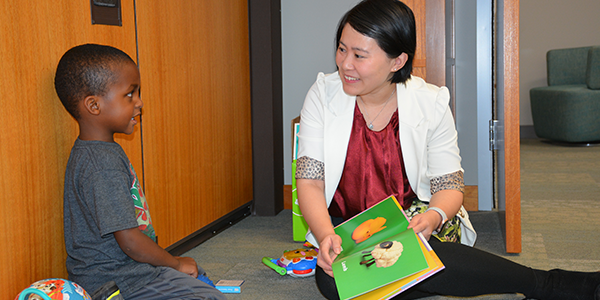 The Michigan State University College of Nursing is pleased to announce that Jiying Ling, PhD, MSN, RN, has been selected to be a fellow of the American Academy of Nursing. Ling is an associate professor and assistant director of the PhD program in the college. Induction into the academy is a significant milestone in a nurse leader's career in which their accomplishments are honored by their colleagues within and outside the profession. Fellows are selected based on their contributions and impact to advance the public's health.
The academy is an honorific society that recognizes nursing's most accomplished leaders in policy, research, practice, administration, and academia. Academy fellows, from nearly 40 countries, hold a wide variety of influential roles in health care. Induction into the fellowship represents more than recognition of one's accomplishments within the nursing profession. Fellows contribute their collective expertise to the academy, engaging with health leaders nationally and globally to improve health and achieve health equity by impacting policy through nursing leadership, innovation, and science.
Ling's research focus has been on advancing family health promotion through implementing cutting-edge, family-centered, bio-behavioral interventions to reduce health disparities in childhood obesity. This includes developing and disseminating highly scalable bio-behavioral interventions to reduce obesity among racially diverse, low-income families; translating research into the national Head Start program to influence early childhood development policy; and integrating research on prevention of childhood obesity into practice and education nationally and internationally.
"We are so proud of Dr. Ling's many accomplishments," said Leigh Small, dean of the MSU College of Nursing, who is also a fellow. "Her acceptance as a fellow into the American Academy of Nursing is a distinctive honor that underscores the importance and impact of her work to promote healthy lifestyle behaviors with preschool children and their parents."
"It is a great honor to be named as a fellow of the American Academy of Nursing," Ling said. "I would like to thank the Academy, my sponsors, mentors, and all the colleagues and staff within the College of Nursing who have supported my growth as a nurse leader and researcher. I will continue to devote my time and efforts to reduce health disparities and promote health equity."
Through a competitive, rigorous application process, the Academy's Fellow Selection Committee reviewed a record number of applications, representing a 30 percent increase from the previous year, to select the 2022 Fellows. Ling was one of 250 individuals selected to be inducted. The 2022 Fellows represent 35 states, the District of Columbia, Puerto Rico, the U.S. Virgin Islands, and 17 countries.
The 2022 inductees will be recognized for their significant contributions to health and health care at the Academy's annual Health Policy Conference, taking place on October 27-29, 2022 in Washington, DC at the Marriott Marquis during the Induction Ceremony on the evening of October 29. Once the newest Fellows are inducted, the Academy will be comprised of more than 3,000 leaders who are experts in policy, research, administration, practice, and academia that champion health and wellness, locally and globally.
Learn more about the Academy and visit the policy conference website for more details. For individuals interested in attending the Induction Ceremony, tickets can be purchased online.
About the American Academy of Nursing
The American Academy of Nursing serves the public by advancing health policy and practice through the generation, synthesis, and dissemination of nursing knowledge. Academy Fellows are inducted into the organization for their extraordinary contributions to improve health locally and globally. With more than 2,900 Fellows, the Academy represents nursing's most accomplished leaders in policy, research, administration, practice, and academia.
About the Michigan State University College of Nursing
The Michigan State University College of Nursing dates back to 1950 when the university established the "Department of Nursing Education." Today, the college has a three-part mission focused on research, education and practice, with an emphasis on training the next generation of nurses and nursing leaders to provide exceptional care for those throughout Michigan and beyond. The college offers undergraduate programs, as well as graduate programs for aspiring nurse anesthetists, nurse practitioners, clinical nurse specialists and nurse scientists. Who will? Spartan Nurses will.