COVID-19: Click on the following link for more information on MSU's response to the COVID-19 pandemic.
News
More than $50K raised for scholarships for veterans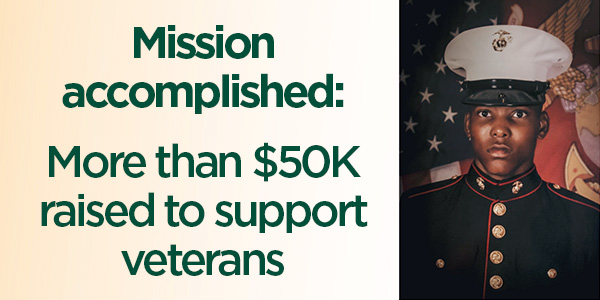 Thanks to 114 generous donors, veterans wishing to attend nursing school will get the financial support they need to transition into new health care careers.
Just over the course of the past two weeks, the Michigan State University College of Nursing raised $51,843 as part of the "I am Sgt. Graham" campaign, which honored a Marine from Wixom whose dream was to attend nursing school before his life was cut short. The amount raised is the largest crowdfunding campaign by a college in MSU history and will provide veterans with scholarships to attend the College of Nursing.
This achievement allowed the Sergeant Leonard B. Graham III Nursing Scholarship to become fully-endowed and thus his dream of becoming a Spartan nurse will live on forever through its recipients.
Each gift was matched dollar-for-dollar by College of Nursing supporter, Dick Wendorf. "Tracy and I wanted to especially thank Dick Wendorf for his generous contribution of matching the funds raised," said Leonard Graham Sr., the father of Sgt. Graham. "Dick's our angel, our son's angel, and has touched us forever. He's made our dream of endowing his scholarship a reality."
A leading cause of the campaign's support was the amount of awareness that was generated through Detroit media outlets and the Graham family.
"I learned of the campaign from my brother-in-law who is a cousin of Sergeant Graham," said Nate Trasseth. "I supported the scholarship because it's a great way to honor him."
The College of Nursing also received support from its faculty staff and alumni,
"Sergeant Graham's story touched my heart," said Nancy Reame, BSN, 1969. "I can't think of a better way to honor his memory than by supporting a future Spartan Nurse with a military background.'
The College of Nursing and Graham family would like to extend its thanks and gratitude to those who supported the campaign.