COVID-19: Click on the following link for more information on MSU's response to the COVID-19 pandemic.
News
Poindexter, Sheehan named fellows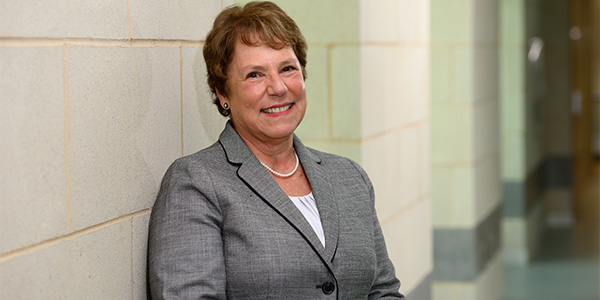 The Michigan State University College of Nursing has added two new fellows to its ranks.
Dr. Kathy Poindexter, Ph.D., RN, CNE, is one among 17 distinguished educators to have been selected for the thirteenth class of fellows to be inducted into National League for Nursing Academy of Nursing Education. And Dr. Ann Sheehan, DNP, RN, CPNP, FAANP, is among the newest class in the Fellows of the American Association of Nurse Practitioners.
Poindexter says it is an honor to be selected.
"It is humbling to join a group of educators and leaders that I greatly admire and respect; many who took the time to serve as mentors throughout my career," she said. "My goal is to share my passion and dedication to advancing excellence in nursing education and serve as a mentor and resource to current and future nurse educators."
For Poindexter's honor, NLN acknowledges fellows "as leading nurse educators who teach in a range of programs across the spectrum of higher education and are affiliated with leading teaching hospitals and other organizations committed to advancing the quality of health care in the United States and globally."
Rumay Alexander, EdD, RN, FAAN, NLN president said the new fellows are reflective of creativity, enterprise and drive in nursing education.
"We applaud their critical role in preparing nursing school graduates to deliver sustainable, accessible, culturally-relevant and adjusted care to a diverse patient population, which advances the health of the nation and the global community," Alexander said.
FAANP, meanwhile, recognizes leaders "who have made outstanding contributions to health care through clinical practice, research, education or policy. Fellows of AANP are visionaries and, as such, hold an annual think tank to strategize about the future of NPs and health care."
"The AANP fellowship will enable me to pursue my policy work on a deeper level," Sheehan said. "I am thrilled to be able to connect on this level with so many accomplished NPs from across the country."
The honors are well-deserved, says MSU College of Nursing Dean Randolph Rasch, Ph.D., RN, FNP, FAANP.
"Both Dr. Poindexter and Dr. Sheehan represent the best in nursing educators, serving as leaders and innovators in our field," Rasch said. "It is nice to see their work recognized by their peers with this well-deserved honor. We know they will represent our college well."
Poindexter and Sheehan join roughly a dozen other fellows honored by various leading nursing organizations within the college.

You can see the full list of new NLN fellows and FAANP fellows online.