News
Two seniors among 133 across MSU to receive prestigious academic award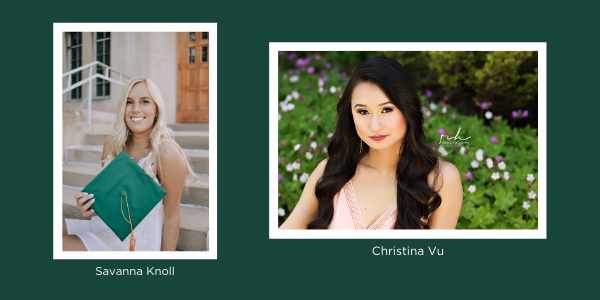 Two seniors in the Michigan State University College of Nursing were among 133 across the university to receive a Board of Trustees Award for having the highest scholastic average at the close of their last semester before graduation.
Christina Vu and Savanna Knoll, bachelor of science in nursing students, celebrated the completion of their degrees Friday, April 30 with their peers during the college's BSN graduation ceremony. Across the university, about 6,300 students graduated this spring.
Vu, of Lansing, will begin a medical-surgical residency program and said she plans to begin working at the bedside and see where her career takes her.
"People say it's a good starting ground, and you really get to apply what you learn," Vu said. "From there, doors can open up because you have that baseline experience."
Knoll, of Grand Rapids, accepted a position as a registered nurse in the neonatal intensive care unit at Helen DeVos Children's Hospital in downtown Grand Rapids.
"I've always been interested in neonatal work," Knoll said. "I think it's important to advocate for those patients who are vulnerable and fragile."
For Knoll, receiving the Board of Trustees award means all of her hard work has paid off. While she challenged herself academically, Knoll said it was crucial for her to have a support system and take care of herself.
"A lot of professors stressed that you can't pour from an empty cup and to make sure I'm ok so I can be the best nurse for my patients," Knoll said.
Vu said she feels honored the university recognizes and values the dedication of its students.
"I'm appreciative of all the help I've received and the amazing faculty at MSU," Vu said. "I'm thankful for the college and MSU for putting great faculty on board and having doors open for students."
Knoll and Vu both said they have passion to care for people and chose to attend MSU because of the College of Nursing's positive reputation and mission to train the next nurse leaders. Vu also said she chose the university because of its diverse student population.
As Vu and Knoll prepare to enter an ever-changing field, Vu said she's learned to never be afraid to ask questions. While there is some nervousness, Knoll said she's excited and feels ready.
"I can finally apply what I've learned the past four years," Knoll said. "I'm going to be taking care of patients."