News
Laura Taylor, DNP '22: The perfect service combination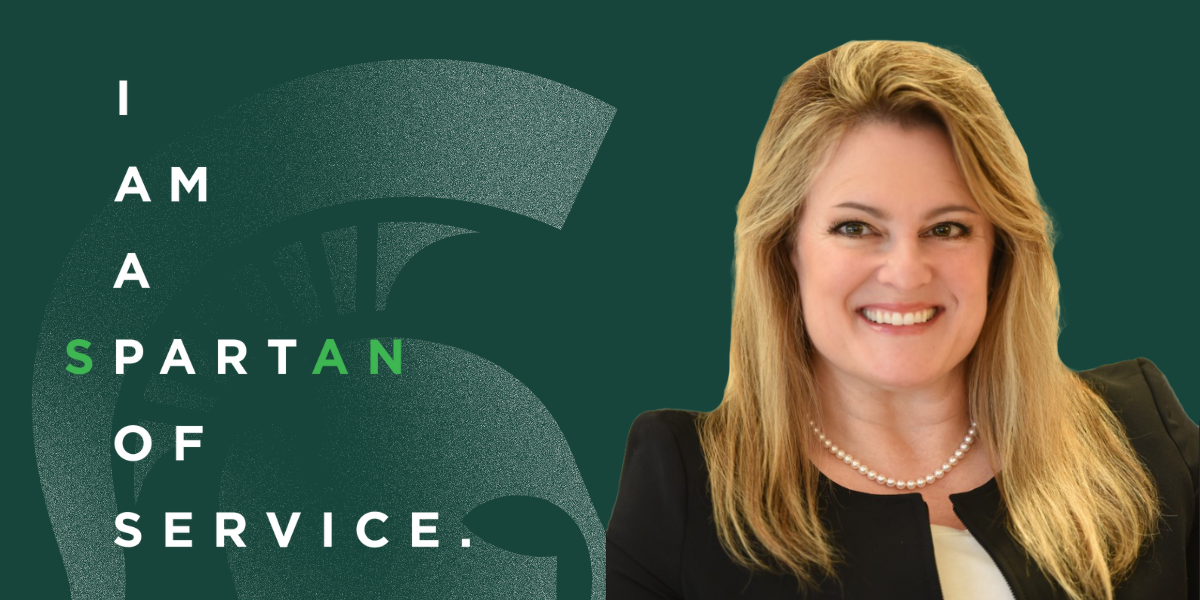 A veteran's commitment to service began with a Spartan's dedication to excellence
The College of Nursing is honored to support our students, faculty, and staff who have served in the U.S. military. Their dedication to transforming healthcare in their communities is deeply connected to their foundation for service. This Veteran's Day, we recognize the contributions these individuals have made to the Spartan Nursing community and to global health care.
One veteran alumna intends on making an impact in the mental health field. Laura Taylor (BSN, '95) completed her DNP one year ago in the Psychiatric Mental Health Nurse Practitioner program (PMHNP). Before she entered the program, however, she served in the U.S. Navy for over 12 years.
Taylor began her nursing career at the Naval Medical Center Portsmouth where she was assigned to the high-risk labor and delivery unit. "It was there that I fell in love with being a maternal, child, and family nurse," said Taylor.
This passion for L&D continued to guide Taylor's career. She was transferred to naval bases in Italy and Puerto Rico in their respective L&D units. She returned to the U.S. to complete her Certified Nurse – Midwifery degree through Georgetown University. After a short midwifery assignment at the National Naval Medical Center in Bethesda, MD, Taylor served as one of two midwives at Naval Hospital- Pensacola. She then continued her military service as a civilian where she was a government appointed ombudsman for Naval Hospital Pensacola and its 10 branch clinics in 5 states while raising her two children and her husband on active duty.
Her contributions to communities are abound. She developed and implemented a nonprofit educational foundation for a local school in San Diego. As the foundation's first president, Taylor led the foundation's first auction and organized a charitable farmer's market. She has served on numerous committees as a board member or volunteer for local organizations, schools, and churches across the country.
Dawn Goldstein, director of the PMHNP program, applauds Taylor for her status as a Spartan and a veteran. "Laura is a great example of a true veteran," she said.
Returning to the Spartan Nursing community
Taylor returned to MSU in 2021 to complete her DNP degree. This past academic year, Taylor was selected to receive two scholarships uniquely designed for veterans in the College of Nursing: the Captain Sean Grimes Nursing Endowed Scholarship and the Sergeant Leonard Bernard Graham III Nursing Endowed Scholarship.
"These scholarships will directly support my professional goal of providing perinatal and women's mental health services in northern lower Michigan and the Upper Peninsula," said Taylor.
Taylor strives to close the health care gap in the region. Communities in the northern lower Michigan and the Upper Peninsula have limited access to perinatal mental care. This encouraged Taylor to volunteer with Postpartum Support International (PSI) as a local coordinator to bring perinatal mental support to rural Michigan. She was also tasked by PSI as the perinatal posttraumatic stress disorder specialty coordinator for the United States.
Her volunteerism directly benefits this region. "Out of all the representatives of PSI in the state, I'm the only person in the northern and UP region," said Taylor. In addition, Taylor found and created the Perinatal Support Group of Northern Michigan. The group helps mothers across the northern region to find peer-to-peer support and resources, especially those in health care deserts.
"It's a great space for moms to come together and find support," said Taylor. "PSI has offered the training and support along with the regional perinatal and community groups who are excited and supportive of this valuable addition to our area."
Taylor credits her training during her BSN studies to her success in the military. "The program prepared me well for the rigorous nature of serving as a Navy Nurse Corps Officer," she said. The combination of striving for Spartan excellence and dedicating her career to military service made the perfect launching point to success.
Goldstein, a U.S. Army veteran, seconded Taylor's connection. "As a proud veteran and advocate for nursing education, I have witnessed firsthand the transformative power of military experience in shaping compassionate and resilient health care professionals," said Goldstein.
Veterans, Spartans finding purpose in health care
Goldstein wishes to develop the College of Nursing into a "beacon for fellow veterans" who are considering health care. She aims to help veterans find a purposeful home in the college. Goldstein encourages investment in the scholarships dedicated to students with military experience.
"These generous contributions not only foster academic excellence but also strengthen the bridge between military and healthcare communities. By investing in these scholarships, you are not just funding education; you are catalyzing a ripple effect of positive impact on Veterans within our College of Nursing," said Goldstein.
The College of Nursing invites you to honor the legacy of Spartan Nursing veterans. Share their stories with the college's marketing and alumni team by filling out this survey. You can also support Spartan Nursing veterans through donations to the Captain Sean Grimes Nursing Endowed Scholarship and the Sergeant Leonard B. Graham III Nursing Scholarship through the Giving to Michigan State University website.