News
Celebrating Spartan Nurses during Nurse Practitioners Week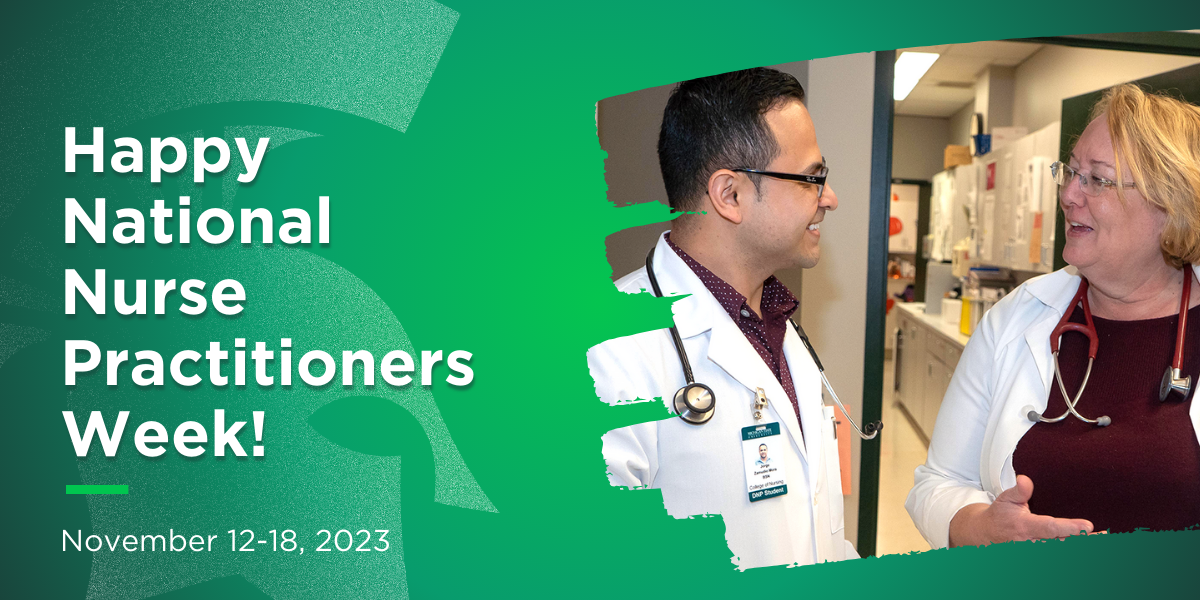 Spartan Nurse practitioners rise to the call to serve their community and patients every day. These stories showcase the care and compassion people expect when they see a Spartan Nurse in health care systems.
In honor of National Nurse Practitioner Week, Nov. 12-18, the college is sharing some stories of our NPs, students and their impact on their communities.
Like mother, like daughter
Jennifer Thomas and Sienna Stevenson are more than classmates in the Nurse Practitioner Program, they're mother and daughter, respectively. Learn more about how these two self-described "study buddies" are advancing their careers.
Read more here: https://nursing.msu.edu/about-us/news/news-articles/mother-daughter
An "ally" in the exam room and life
Earlier this year, the college shone a spotlight on some of the students and faculty who were more than a provider for patients, rather, an ally. From a cancer diagnosis to helping a new mother through a difficult time, NPs displayed incredible compasson and skill.
Read and watch those stories here: https://nursing.msu.edu/allies
Investing in Psychiatric Mental Health NPs
The college is now well into the implementation phase of two grants that aim to get more nurses trained in mental health into underserved areas. Specially, the college has been offering stipends to graduate students who wish to receive training as psychiatric mental health nurse practitioners (PMHNP) and agree to work for at least two years in a state or federally designated medically area. Many of these areas are in rural or urban communities.
Read and watch those stories here: https://nursing.msu.edu/about-us/news/news-articles/stipend-initiative-pmhnp-students-takes
Additional stories celebrating NPs:
Kristen Monroe got a chance to reconnect with her Native American background. She works on a clinical rotation as a Family Nurse Practitioner DNP student at the Gun Lake Tribal Health Center, located about 30 minutes south of Grand Rapids. The Gun Lake Tribe is a band of Potawatomi, which operates as a sovereign nation with self-government. Read and watch her story: https://nursing.msu.edu/lifelines/native-americans
Michigan State University Health Care has a nurse-led office of the Family Medicine Clinic, which is staffed by NPs who serve as faculty at the college. Read more about this story: https://nursing.msu.edu/about-us/news/news-articles/new-nurse-led-clinic-opens-campus
Patrick Hawkins found a community in Flint after providing care for its citizens for 20 years. Read how he impacts his new hometown here: https://nursing.msu.edu/neighborhood-nurses/neighborhood-nurses-patrick-hawkins
Trevor Gabel-Baird set out to ensure patients from all backgrounds had empathic care. As a member of the LGBTQIA community he now provides equitable care. Read more about his story: https://nursing.msu.edu/unleashed/trevor-baird