News
Spartan Nurses 2020: Top 10 stories of the year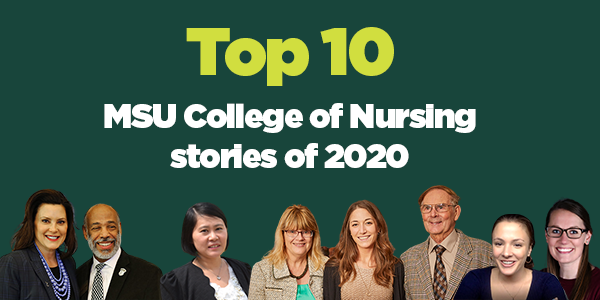 This year, for many, has been one of the most trying years in our recent history. Even in the face of these great challenges, the students, staff, and faculty at the Michigan State University College of Nursing carried on, fighting the COVID-19 pandemic, conducting groundbreaking research and educating the next generation of nurses.
We've had the pleasure to share some of their stories. Below are the top 10 most read news stories of the year.
How "tummy time" is helping COVID-19 patients
Mariah Foster, who graduated from the DNP program in May, discovered that when COVID-19 patients physically turned over on their stomachs, oxygen levels improved. Read more about Foster and her discovery here.
Governor, dean announce new implicit bias training for health care workers
Dean Randolph F.R. Rasch joined forces with Michigan Gov. Gretchen Whitmer to announce a new implicit bias initiative that will require all health profession employees to undergo training in order to receive or renew their license. Read more about the initiative here.
Mental health awareness month Q&A: How stress affects parents, kids
For Mental Health Awareness Month in May, Assistant Professor Jiying Ling offered some expert advice for parents on how to manage the stress of the COVID-19 pandemic while also keeping their kids and themselves physically and mentally healthy. Read more about how to manage stress during this stressful time here.
On the front lines: How nursing students, alumni are fighting COVID-19
The COVID-19 pandemic changed the world forever in 2020, but Spartan Nurses across the country have stepped up to fight the virus.
Read more about how Spartan graduates Caley Gibson, Elizabeth Luea and Abby Nowicki joined the front lines to fight COVID-19 here.
Back for seconds: From BSN graduate, to Dr. Miller
Megan Miller started at MSU pursuing her BSN, but left the college with a PhD. Read more here about how Miller, with the guidance of Professor Gwen Wyatt and Associate Professor Rebecca Lehto, earned her PhD and has continued her research in cancer symptom management at the University of Wisconsin-Madison.
Dean tapped to lead statewide implicit bias task force
Dean Randolph F.R. Rasch, representing the MSU College of Nursing, joined leaders at the Detroit Medical Center to lead a task force formed by Gov. Gretchen Whitmer. Under the initiative "Healthy Moms, Healthy Babies," this task force will work to address health disparities among women of color in the state of Michigan. You can read more about the initiative here.
Nurse Week: Stories of amazing Spartan Nurses
To celebrate Nurses Week 2020, we compiled some of the great stories that Spartan Nurses have accomplished in 2020.
You can read more about how Spartan Nurses have helped fight COVID-19, tackled childhood obesity, addressed implicit bias, supported veterans and more here.
Healthy aging in place tips with Dr. Linda Keilman
In Fall 2020, we celebrated both National Healthy Aging Month and National Healthy Aging in Place Week. In honor of these observances, we sat down with Dr. Linda Keilman, associate professor and gerontology content expert, as she offered up some advice on healthy aging. You can read more here.
New health sciences EVP lays out vision for college
Earlier this year, new Executive Vice President for Health Sciences Norm Beauchamp laid out his vision and initiatives for the college. Among those initiatives, Beauchamp expressed support that advanced practice registered nurses should be able to practice to the full scope of their abilities. You can read more about Beauchamp's vision here.
3.8M grant to fund childhood obesity project
MSU College of Nursing researcher Dr. Lorraine Robbins, received a large grant to fund her project to fight childhood obesity.
You can read more about the program, which includes an after-school club, meetings with parents/guardians and a social media app here.